Overall Rating: 2/10
Smartstocks is a free virtual stock market simulation game. However I would not recommend it for school use or for creating your own contest. This site does not offer anything valuable for people wanting to learn about investing. Taking into account all the other sites out there, this is by far my least favorite.
Click Here to see how I make my ratings
For Schools: 2/11
SmartStocks is definitely not an option for schools. It does not provide useful resources for teachers or students to learn about the stock market.
For Your Own Contests:  4/6
You are able to create a basic contest. You can restrict membership to your group by selecting a password or making the group available by invitation only. This means that they don't have any way to have a "public" contest to trade against others unless you specifically invite them. What is fun about contests is that you are able to participate with people all over the world and learn from them and their strategies, but there are no public contest available in SmartStocks
Using It On Your Own: 3/6
This is a very basic site with a lack of guidance and information. No charts or in-depth information about stocks.
My Review of

SmartStocks
Smartstocks is a free virtual stock market simulation game. You can trade real stocks using virtual money the same way you would trade real stocks using actual money with a genuine online brokerage account. Yet, you are not able to trade mutual funds or other type of securities.
The Stock Game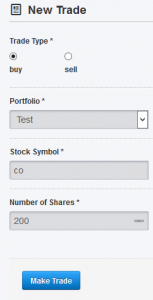 I have tried so many stock market games; so far this website is on my least favorites.  It lacks not only information, but also guidance. If it is your first time trading and you don't know where to start, it will be a very challenging experience using this site.
First of all, there is no guidance; you will have to figure things out by your own. When it comes to trading, this website does not give you any ideas on good choices of stocks to trade and does not provides a place for you to look for the symbol of the stocks. What's more, the information provided about each stock is extremely poor. There are no charts, the prices are not updated automatically unless you refresh the page and there is no information about your account balances or order history. I consider information to be critical in order to make a good analysis of your portfolio performance.
The purpose of playing these kinds of games is to learn and be able to improve your own trading strategy. I don't think you will achieve that using this platform. One of the keys for investment success is to analyse data and to do research. Other sites allows you to see quotes showing you detailed information of company's news, financials, historical data, company information,  charts and much more.  SmartStocks does not provide these kinds of information.
Contests

SmartStocks allows you to create your own contest for you and all your friends to compete against each other.You can restrict membership to your group by selecting a password or making the group available by invitation only. The contest are very standard,you don't have the ability to select another currency besides USD, shorting, trading any securities besides stocks and ETFs, among other contest rules that other websites allows you to personalize. What really bothered me is that there are no public contest, making it very dull for anyone trying to lean on their own, so you are not able to compete with people you don't know.
Classroom Usage and Other Site Perks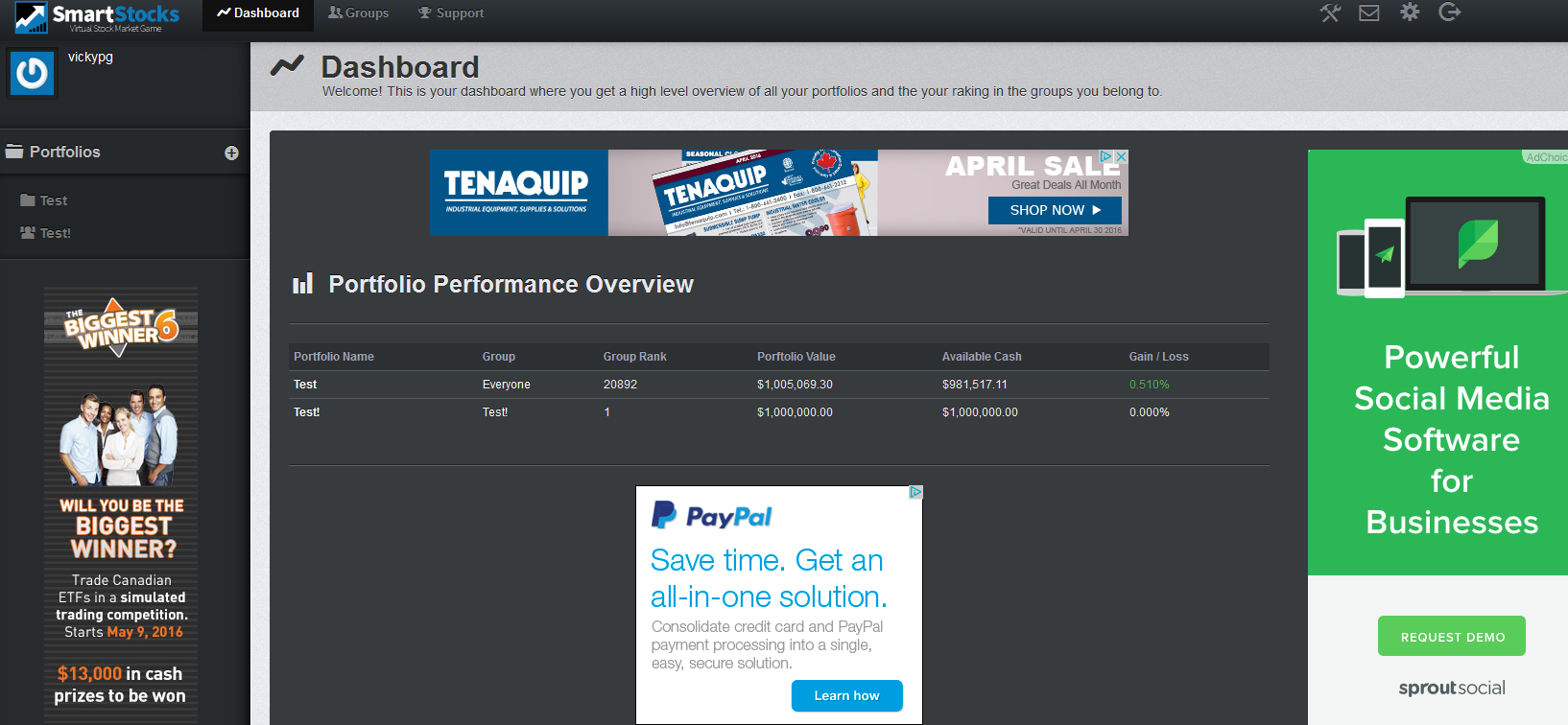 This website is exclusively for the use of the stock market game. There are no articles, tutorials, assignments or information for you to learn more about the stock market or how to trade. There is no incentive for teachers to use it since there are not resources available for them or their students, besides a poor stock market game.
SmartStocks is full of irrelevant ads which are very distracting. In addition, the website interface is all black and white with no colors, which make it a little boring. If you want to get the whole real investing experience this page is definitely not for you.