Overall Rating: 6/10
Investopedia is definitely an excellent go to source of information. Unfortunately, my expectations for their stock simulator where not as great as I had hoped. Taking into account all the articles, news and data they posses, I thought their stock market simulator would be very professional, advanced and include a vast amount of information to make in depth analysis, but I was disappointed.
Click Here to see how I make my ratings
 For Schools: 3/11
In my opinion, this site is designed for individuals that want to start getting their feet wet in to the stock market world. I don't think it is intended for the use of high school or university students as an integrated part of their classes. There are no teacher guides or resources for them to complement their lesson plans using the Investopedia stock simulator.
For Your Own Contests:  5/6
Creating your own game is an extensive process, but very easy. It allows you to customize several aspect of the contest and invite as many people as you want.
Using It On Your Own: 4/6
I like using Investopedia as a learning tool; I think that overall their site it is easy to use on your own. But, in terms of their stock market simulator I definitely prefer other options. It does not have as much built-in research tools as I've seen on other simulators, but the trading works fairly well. I did see several contests were participants had tens of thousands of percent returns, which is always a red-flag.
My review of Investopedia

Investopedia is a well known site dedicated to informing the public about the market and giving their users tips for investing effectively. I had high expectations for this simulator, since I really like their website in general. However, their Simulator is just like any other, offering a free to use stock market simulator where players are given virtual money to invest in real stocks, very basic.
What I like about this site is that they offer how to guides on everything. Without them it would be hard to figure things out by your own.
The stock Game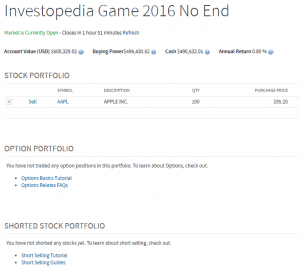 Even though I found this site to be relatively good, I thought their interface was a bit boring. No charts, no colors and no prizes.  In addition, compared to other sites, it lacked information about the transactions you made.  For instance, for each transaction you can only see the symbol, the quantity and current price. When compared to HowTheMarketWorks, you are able to see so much more about each transaction like news, financial charts, analyst opinions, quantity, price paid, last price, days change, market value and profit/loss. For me, this kind information is extremely important and valuable in order to analyze the effectiveness of my trades and consequently improve my strategy.
International Stocks
While investing in this simulator I found that the login dies using certain browsers like Google chrome and sometimes my transactions would be lost. Another thing that I didn't like is that in order to trade international stocks you will have to modify your account. For example if you want to trade Canadian stocks you will have to use a Canadian dollar account. I was hoping this site would have more flexibility when investing in international securities.
Taking this into account, I'll definitely keep using this site if I want to learn about the market. When it comes to trading stocks this will not be my first option.