Overall Rating: 9/10
Wall Street Survivor is home of the web's best Stock Market Simulation. With an intuitive design and easy to understand layout, trading has never been this easy. Catering to beginners and seasoned traders alike, the platform allows users to jump right in and start using the various resources and tools available. Research tools are built right in and are supported by numerous educational resources. While I would recommend the platform for users of any kind, people who are using it on their own will find it the most beneficial.
For Schools: 9/10
Wall Street Survivor successfully manages to make learning about investing simple, enjoyable and rewarding. Using investing and personal finance courses, tutorial videos and hundreds of articles, Wall Street Survivor offers top notch teaching resources that anyone can understand. Courses are also offered to reinforce this learning. Students can also be given class rankings and all trading is done real-time to prevent cheating. They can practice their skills by taking online quizzes and playing the interactive stock market game. Professors are also given a myriad of resources such as class reports and lesson plans and can even assign readings for students to complete. All of which is fully integrated into the simulation. These features somewhat make up for the platform's lack of actual assignments which professors can assign and is the only reason I haven't given it a perfect score in this category.
For Your Own Contests: 10/10
Wall Street Survivor gives users the option to create their own custom class leagues, allowing them to freely change the rules as they please. Additional settings such as portfolio currency can also be configured. The whole creation process takes less than five minutes and users can easily invite their friends by sending them the link to the league.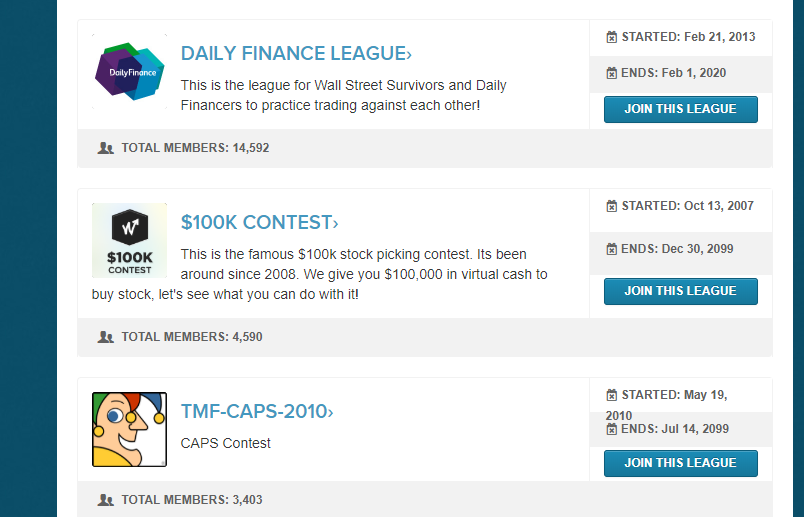 Using It on Your Own: 10/10
With professional analytics built right into the trading, individuals are offered a powerful trading platform equipped with useful research tools such as historical prices, SEC filings and research by sector. Users can also compete in public leagues for real cash prizes and awards. Unlike other platforms, Wall Street Survivor offers numerous courses to help traders learn and improve their skills. These courses are seamlessly integrated into the simulation, allowing users to practice their skills.
Registration:
Registering an account is extremely straightforward, with minimal information required. Alternatively, users have the option of signing up with their Facebook account which further simplifies the process.
Stock Market Simulation / Stock Market Game:
The simulation offered by Wall Street Survivor is top of the line and the best I have ever seen. With an efficient User Interface, trading is almost effortless, even for beginners. Stocks can easily be searched by using their tickers or by searching the company name. The trading page includes company names and logos to ensure that users are seeing the right thing and colorful charts display how each stock's price moves. Best of all, they also offer a live chat support desk for any queries that users may have.